Follow us on Twitter

@buckeyeplanet

and

@bp_recruiting

, like us on

Facebook

! Enjoy a post or article, recommend it to others! BP is only as strong as its community, and we only promote by word of mouth, so share away!

Dismiss Notice

Consider registering! Fewer and higher quality ads, no emails you don't want, access to all the forums, download game torrents, private messages, polls, Sportsbook, etc. Even if you just want to lurk, there are a lot of good reasons to register!

Dismiss Notice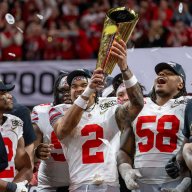 Last Activity:

Dec 3, 2022 at 4:05 PM
Joined:

Aug 24, 2007
Messages:

13,153
Likes Received:

13,858
Trophy Points:
pnuts34
Drunk off of wolverine tears, Male, from Cincinnati, Oh
Staff Member BP Recruiting Team
pnuts34 was last seen:

Dec 3, 2022 at 4:05 PM
Loading...

Loading...

About

Interact

Signature

You'll find out that nothing comes easy is worth a dime. As a matter of fact, I never saw a football player make a tackle with a smile on his face. Never

Woody Hayes

Loading...

Loading...